Speaker Biography: Nathen Aswell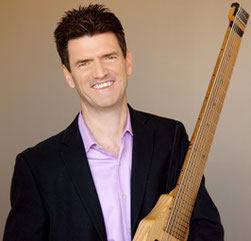 Nathen Aswell (NathenAswell.com) is a gifted speaker, recording artist, coach and podcaster based right here in White Rock, and he believes that his calling in this life is to encourage through his engaging talks, his heart-centered music-making and his warm listening. His CDs "Little By Little" and "YES" are celebrations of life, transformation, evolution and the oneness of humanity, delivered in a variety of popular music styles.
Nathen honours his calling by speaking and performing internationally at Conferences, Concerts, Retreats and Churches, presenting his music, stories and humour with his voice and the NS Stick (an 8-stringed electronic instrument that can be plucked like a bass, strummed like a guitar, or tapped with both hands like a piano).